Infected Rain - The Devil's Dozen (2023, Blu-ray)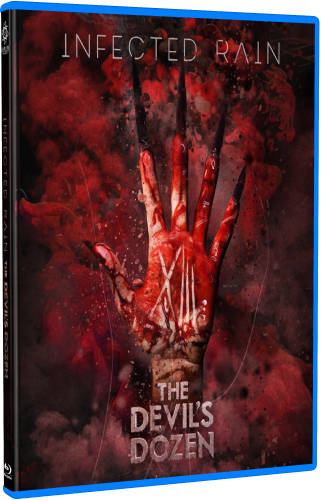 Title:
Infected Rain - The Devil's Dozen
Year of release:
2023
Genre:
Nu Metal, Nu Metalcore
Released:
Napalm Records
Cast:
Infected Rain
Tracklist
:
The Devil's Dozen - finally available on DVD/BLURAY - electrifies with outstanding live performance from one of the hottest acts on the Modern Extreme Metal scene! Since their formation in 2008, Moldovan progressive modern metal force Infected Rain has become one of the most exciting new acts on the scene.
In November 2021, Infected Rain offered an exclusive concert stream titled "The Devil's Dozen" in celebration of their fan & critically acclaimed fifth studio album, the futuristic Ecdysis (January 2022). The stream was available exclusively online for eight days. Now the band around exceptional singer Lena Scissorhands, will release their live momentum "The Devil's Dozen" in April 2023 as DVD/BLURAY as well as 2CD Digipack via Napalm Records! Immerse yourself in Infected Rain's history like never before, with a breathtaking show spanning the last 15 years of the band's history and a dazzling album catalog, complete with bombastic production and special effects - including rare song material!
01. Intro
02. Pendulum
03. Mold
04. Endless Stairs
05. Black Gold
06. Serendipity
07. Dead Mannequin
08. Passerby
09. Lure
10. Storm
11. Stop Waiting
12. Dancing Alone
13. Me Against You
14. Enslaved by a Dream
15. Judgmental Trap
16. Freaky Carnival
17. Fool the Gravity
18. Orphan Soul
19. Peculiar Kind of Sanity
20. The Earth Mantra
21. Sweet, Sweet Lies
22. Taphephobia
Quality:
Blu-ray
Video:
MPEG-4 AVC Video / 24979 kbps / 1080i / 25 fps / 16:9 / High Profile 4.1
Audio:
English / LPCM Audio / 2.0 / 48 kHz / 1536 kbps / 16-bit
Total Size:
20.57 GB
Total Time:
01:38:10
Download Hoster: hitfile.net, rapidgator.net, turbobit.net
Pass: 689