Steve Hackett - Live at Hammersmith (2020, Blu-ray)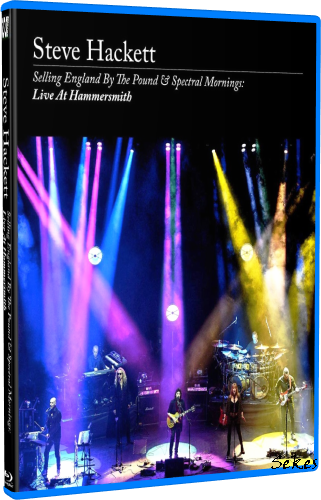 Title:
Steve Hackett - Selling England by the Pound & Spectral Mornings: Live at Hammersmith
Year of release:
2020
Genre:
Progressive Rock
Released:
Inside Out
Cast:
Steve Hackett, Roger King, Nad Sylvan, Craig Blundell, Rob Townsend, Jonas Reingold, Twelve String
Tracklist
:
The concert was recorded at the Hammersmith Eventim Apollo, the final evening of the tour. Steve Hackett was accompanied by his touring band with Roger King (keyboards), Jonas Reingold (bass), Rob Townsend (saxophone/flutes), Craig Blundell (drums and percussion) and Nad Sylvan on vocals. Special guests for this performance were Steve's brother John Hackett (flute) and Amanda Lehmann (guitar and vocals).
01. Intro
02. Every Day
03. Under The Eye Of The Sun
04. Fallen Walls And Pedestals
05. Beasts In Our Time
06. The Virgin And The Gypsy
07. Tigermoth
08. Spectral Morning
09. The Red Flower Of Tai Chi Blooms Everywhere
10. Clocks - The Angel Of Mons
11. Dancing With The Moonlit Knight
12. I Know What I Like
13. Firth Of Fifth
14. More Fool Me
15. The Battle Of Epping Forest
16. After The Ordeal
17. The Cinema Show
18. Aisle Of Plenty
19. Deja Vu
20. Dance On A Volcano
21. Los Endos
Quality:
Blu-ray
Video:
MPEG-4 AVC Video / 20505 kbps / 1080p / 23.976 fps / 16:9 / High Profile 4.1
Audio:
English / LPCM Audio / 2.0 / 48 kHz / 2304 kbps / 24-bit
Audio:
English / DTS-HD Master Audio / 5.1 / 48 kHz / 4649 kbps / 24-bit
Total Size:
36.11 GB
Total Time:
02:17:58
Download Hoster: rapidgator.net, rapidu.net, hitfile.net, filefactory.com, turbobit.net
Pass: 689