Bob Dylan - 30th Anniversary Concert Celebration'92 (2014) Blu-Ray 1080i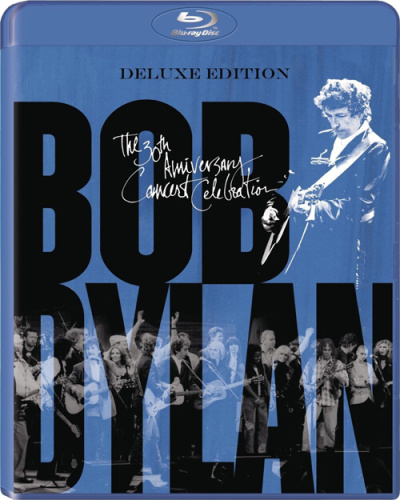 Screenshots: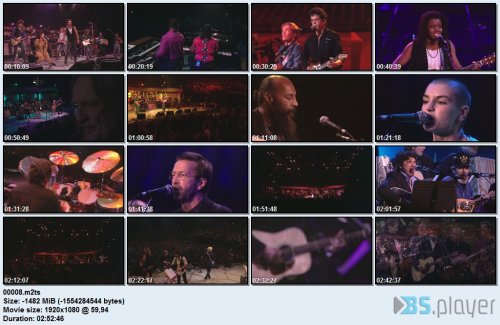 Setlist:
01. Like a Rolling Stone – John Mellencamp
02. Blowin' in the Wind – Stevie Wonder
03. Foot of Pride – Lou Reed
04. Masters of War – Eddie Vedder and Mike McCready
05. The Times They Are A-Changin' – Tracy Chapman
06. It Ain't Me Babe – June Carter Cash and Johnny Cash
07. What Was It You Wanted – Willie Nelson
08. I'll Be Your Baby Tonight – Kris Kristofferson
09. Highway 61 Revisited – Johnny Winter
10. Seven Days – Ron Wood
11. Just Like a Woman – Richie Havens
12. When The Ship Comes In – The Clancy Brothers and Robbie O'Connell with special guest Tommy Makem
13. War – Sinead O'Connor
14. Just Like Tom Thumb's Blues – Neil Young
15. All Along the Watchtower – Neil Young
16. I Shall Be Released – Chrissie Hynde
17. Love Minus Zero/No Limit – Eric Clapton
18. Don't Think Twice, It's All Right – Eric Clapton
19. Emotionally Yours – The O'Jays
20. When I Paint My Masterpiece – The Band
21. You Ain't Goin' Nowhere – Mary Chapin Carpenter, Rosanne Cash and Shawn Colvin
22. Absolutely Sweet Marie – George Harrison
23. License to Kill – Tom Petty and the Heartbreakers
24. Rainy Day Women #12 & 35 – Tom Petty and the Heartbreakers
25. Mr. Tambourine Man – Roger McGuinn
26. It's Alright, Ma (I'm Only Bleeding) – Bob Dylan
27. My Back Pages – Bob Dylan, Roger McGuinn, Tom Petty, Neil Young, Eric Clapton and George Harrison
28. Knockin' On Heaven's Door – Everyone
29. Girl From – Bob Dylan
About:
Edition makes this historic all-star musical event available for the first time on Blu-ray. Also includes 40 minutes of previously unreleased material including behind-the-scenes rehearsal footage, interviews and more.
On October 16, 1992, City's hottest concert ticket was the live gathering of musical giants, and archetypes who'd come to Madison Square Garden to celebrate the 30th anniversary of Bob Dylan's first Columbia Records album and play a selection of Dylan songs from culturally iconic (John Mellencamp's no-nonsense "Like A Rolling Stone") to bootleg obscure (Lou Reed's acerbic take on "Foot of Pride") that had moved and inspired them over the decades.
The four hour show, performed for a sold-out audience of more than 18,000 fans and live-cast around the world, brought together an unprecedented roster of artists and icons including Johnny Cash and June Carter Cash, Lou Reed, The Clancy Brothers, Ritchie Havens, Johnny Winter, Roger McGuinn, Tom Petty & the Heartbreakers, Stevie Wonder, Willie Nelson, Kris Kristofferson, Neil Young, Eric Clapton, Ron Wood, Chrissie Hynde, The O'Jays, Eddie Vedder, Sinéad O'Connor, Tracy Chapman, George Harrison (then making his first US concert appearance in 18 years) and more. Providing musical backing throughout the show was an ensemble dream team featuring three members of Booker T. & The M.G.'s, G.E. Smith on guitar with Jim Keltner and Anton Fig on drums.
Dubbed "Bobfest" on stage by a jubilant Neil Young, the 30th Anniversary Concert Celebration reached a transcendent crescendo with an unforgettable performance and all-star jam featuring the evening's honoree.
Viewed anew from a 20-year perspective, Bob Dylan - The 30th Anniversary Concert Celebration -
Info:
Genre:
Rock
Quality:
Blu-Ray | 1080i
Format:
M2TS | 24.9Mbps
Length:
02:52:42 | 43.7Gb
Video:
H.264 | 1920x1080i | 16:9 | 29.970fps
Audio:
LPCM | 2304kbps | 48kHz | 2 channels: L R
Language:
English
Download:
Subyshare.com, xubster.com, upload42.com
pass: 345
Attention:
Files are subject to expiration and can be automatically deleted if their not downloaded 30 days after the last download.